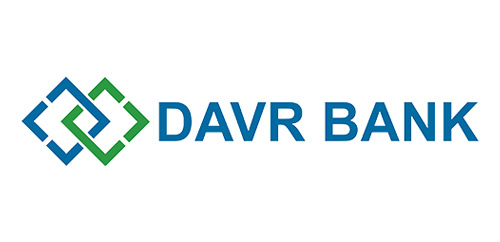 ---
Руководитель:
Chairman of the Board
Samadov Abdumajid Abduvahitovich
---
Правление банка:
First Deputy Chairman Ibragimov Alisher Xadjimatovich

Chief accountant Umarov Rustam Dehqonovich
---
Ссылка на сайт:
---
Private Joint-Stock Commercial Bank "Davr-Bank" carries out its activities under the license of the Central Bank of the Republic of Uzbekistan №71, from September 29, 2011.
"Davr-Bank" - is a dynamic bank that shows the highest growth in the service sector corporate clients and retail segments. Currently, the Bank is one of the largest commercial banks in Uzbekistan, versatile and highly reliable financial institution. "Davr-Bank" provides a full range of modern banking services of high quality, strives to meet the needs of customers and partners.
Fundamental client policy "Davr-Bank" are the formation of customer base diversified by industry parameters, tariff policy orientation to the average market level, establishing long-term partnerships and effective support of business client.
"Davr-Bank" makes every effort to ensure that the standard of customer service was the highest and meet modern requirements in any office of the Bank, regardless of its location. Using the most modern information technology allows customers to ensure the availability of virtually the entire spectrum of the branches of the Bank's services. The Bank's commitment to improve their reputation and image manifests aggressive marketing and promotional activities of the bank in recent years.